Product Description
JetVent Warehouse Air Mover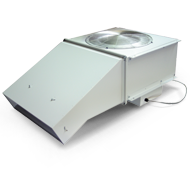 Description
The JetVent Airmover has been designed to provide air movement in large enclosed areas such as warehouses and recreation facilities.
Suspended from the ceiling, it provides a cross-flow of air to an area that enhances heat transfer between the air and the human body. This helps create a fresher environment that is more comfortable to be in.
Typical Application
Large indoor facilities where generating air movement is essential to improving comfort. Examples of this are warehouses, factories, workshops, gymnasiums and public recreation facilities.
Features
Eliminates the build-up of hot, stagnant and polluted air.
Its gentle breeze creates less disturbance to the working environment.
High level mounting position avoids plant operation interference.
Adjustable discharge nozzle enables adjustment of air flow direction.
High performance backward-curved centrifugal fan.
Available with single and three-phase motors.
Single-phase unit is speed-controllable and supplied with 3-pin plug and lead. Three -phase unit can be speed-controlled by using a Star/Delta 2-speed switch.
Long lasting galvanised steel construction with grey, powder-coated finish.
For installations where unit is close to ceiling, model with inlet on the underside face is available.
Other colours can be supplied.
Single Phase Models
Product Code
Diameter


[mm]

Speed


[rps]

kW
Amps
Avg.
dB(A)


@ 3m

Thrust, N
0
15
0.84
4.1
54
0
Three Phase Models
Product Code
Diameter


[mm]

Speed


[rps]

kW
Amps
Avg.
dB(A)


@ 3m

Thrust, N
0
15
0.69
1.45
54
0
Find Similar Products by Category
Customers also viewed